The problem: According to Pew Research Center, money sent by immigrants to their home countries in sub-Saharan Africa alone reached a record of $41 billion in 2017. The cash transfers help households pay for things like housing, healthcare, and education. In those instances where money is sent for healthcare, it is usually impossible to track or verify expenses associated with it, adding substantial stress to senders. Furthermore, even in those instances when money was used for healthcare purposes as intended, senders cannot always ascertain the quality of care it paid for. They lack information about the type of healthcare facilities the patient visited or the qualifications of physicians. Finally, but not least, senders often lack accurate diagnostic information to help their loved ones make more informed healthcare decisions.
The solution: Digitalization is changing the face of every sector. It helps potential target audience view and relate to service providers in a more personalized way. This avenue saves cost and provides easy access to service providers and target audiences. However, this is a feat that the medical sectors in most developing countries have not achieved, as potential clients still have limited access to information about local health providers.
Medicoor fills this gap through the provision of its full stack online healthcare ecosystem, ranging from a robust healthcare directory of thousands of providers; an e-commerce marketplace that brings healthcare provider services closer to patients anywhere, and, provider-patient portals that fosters collaboration for better decision making.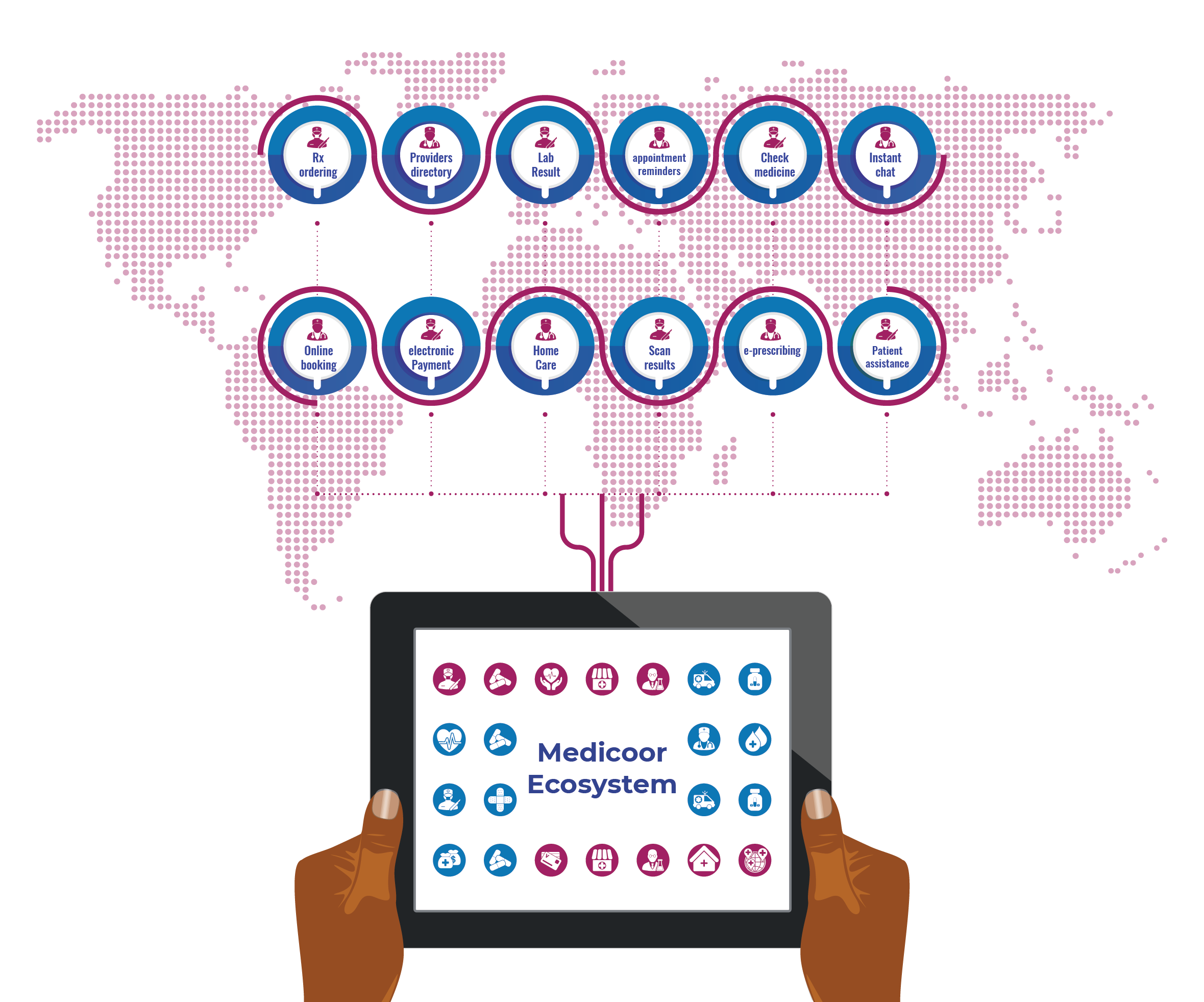 The Medicoor.com e-commerce marketplace platform is a solution that provides migrants with efficient management of healthcare expenses directed to their loved ones back home. Instead of sending arbitrary sums of cash, migrants pay the exact cost of consultation, lab, scan or medicine directly to healthcare providers. Furthermore, w ith our patient-portal capability, patients are able to collaborate with their relatives, and make more informed decisions that will inevitably improve the outcome of their care. A summary description of our services follows:
A very large directory of health care providers
To maximize the outcome of care, it is imperative to be able to quickly locate the right healthcare specialist for our illness. With its large directory of providers, Medicoor brings patients closer to healthcare practitioners. Our database makes it possible to locate thousands of practitioners and medical facilities, search providers, review their profiles and the feedback they got from their patients, and make a selection based on good actionable data.
Book online and pre-pay the exact cost of health
Medicoor is a pioneer in the cash-to-good model for healthcare that provides a viable alternative to remittance by offering senders control, security, savings and better outcome of care. With our health care services on-demand, patients find a healthcare professional, get information about the exact cost of consultations, lab, scan or medication before they commit their money. They book appointments with our healthcare partners. They pay online and money is available without delay to healthcare providers. This is the real power of a digitized health care system. In partnership with the best renown health care providers, Medicoor put it right at the hands of patients and their families before their financial commitment.
Accompaniment of patients
Nothing is more stressful than when your family member has a medical appointment and you are not available to personally take them because of a conflict in your schedule or simply because you live a great distance away from them. This is where we come to help. If you trust no one else to assist you or a loved one during a doctor's visit, count on us to be there for you. With our medical assistance services, we send professional medical staff to the hospital or clinic to attend to you or your loved one during a medical visit. With a signedpatient's consent form, we facilitate communication between the doctor and the patient; we fill out the required paperwork, and work relentlessly to make the visit a pleasant experience.
Our medical accompaniment service is not a transportation service. However, it extends to picking up exam results and medicine for patients while they rest at home and recover.
Home care
Because Medicoor recognizes that patients must be diligent with their treatment plan to improve the outcome of the healthcare, medicoor offers home health follow up services to patients to coordinate their care at home. Our home care professionals administer treatment and medications, help perform diagnostic tests and analyze results, operate various medical devices, record patient medical histories and symptoms, and help with patient follow-up visits. Some of our areas of home services include diabetes management and education, blood pressure monitoring, injections, and nutrition therapy and education.
Patient portal
When patients and doctors collaborate, the outcome of healthcare improves: Our EHR storage system provides the ability to exchange complete health information about a patient in real-time. Using our secure token access, patients are able to consult their medical information anytime and collaborate with their family to make quicker and better healthcare decisions. Accurate, up-to-date and thorough medical record naturally leads to better diagnoses, reduced errors, a higher quality of care, and ultimately better outcomes.
Electronic prescribing: When it comes to medications, paper prescriptions can be lost or misinterpreted, leading to errors in dosage or even the wrong medication being dispensed. Medicoor's electronic prescribing allows physicians and patients to communicate directly and more accurately with pharmacies, reducing errors, saving time, eliminating lost prescriptions, and preventing accidental deaths.
Pharmacy services
Our patients and their relatives enjoy the ability to chat with their local pharmacist to check for the price of the medication or query their availability before they make the trip to purchase them. Also, our electronic payment system and medication delivery options at selected pharmacies is a convenience provided by Medicoor to its patients while they rest and recover, if no immediate relative is available for support.